FANSITE KIT
Please use these assets when presenting SMILE GAME BUILDER on your website. Furthermore, you must agree to Fansite Kits – The User Policy in order to use the Fansite Kit (a collection of assets for creating fansites).
Please be sure to include the below copyright notation on your fansite page:
Copyright© 2016 SmileBoom Co.Ltd. All Rights Reserved.
Fansite kit No.1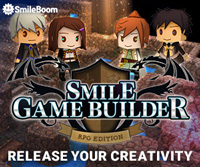 Banners: 3 variations
( 300×250 px, 300×100 px, 728×90 px )
Logos: 1 variations
( For transparent background )
Agree to terms and download
Fansite kit No.2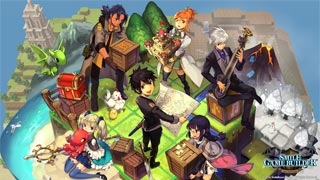 Wallpaper for mobile: 3 variations
( 720 × 1280 px, 750 × 1334 px, 1242 × 2208 px )
Wallpaper for PC: 3 variations
( 1280 × 720 px, 1366 × 768 px, 1920 × 1080 px )
Agree to terms and download
GUIDELINE
Fansite Kits – The User Policy
Fansite Kits are SmileBoom Co., Ltd.'s products and collections of materials in presupposing the users to use them on their blogs, fansites, social network service.
SmileBoom Co., Ltd. shall declare the ownership and the copyright for all the materials in Fansite Kits.
SmileBoom Co., Ltd. strictly prohibits Fansite Kits usages and activities that fall under these categories specified below:
Acts are established for commercial and business profit-making purposes.
Acts are contrary to public order or morality and statutes.
Acts impair the trust or honor of SmileBoom Co., Ltd. and/or our all products unreasonably.
Acts are considered as a possibility of affirming and/or encouraging crimes, other asocial behaviors and violation of laws.
Clipping, manipulate and/or change our copyrighted works and/or materials. (However, except scaling images which keep their vertical and horizontal sizes.)
Redistribute to third parties.
Other acts that SmileBoom Co., Ltd. judged as the matters are inappropriate.
SmileBoom Co., Ltd. can change specifications of Fansite Kits without any notices to our customers in advance.
If there are cases of losses and damages upon using Fansite Kits, the users of these Fansit Kits might be accused of the compensating liability for damages.